The Top Dermal Fillers of 2021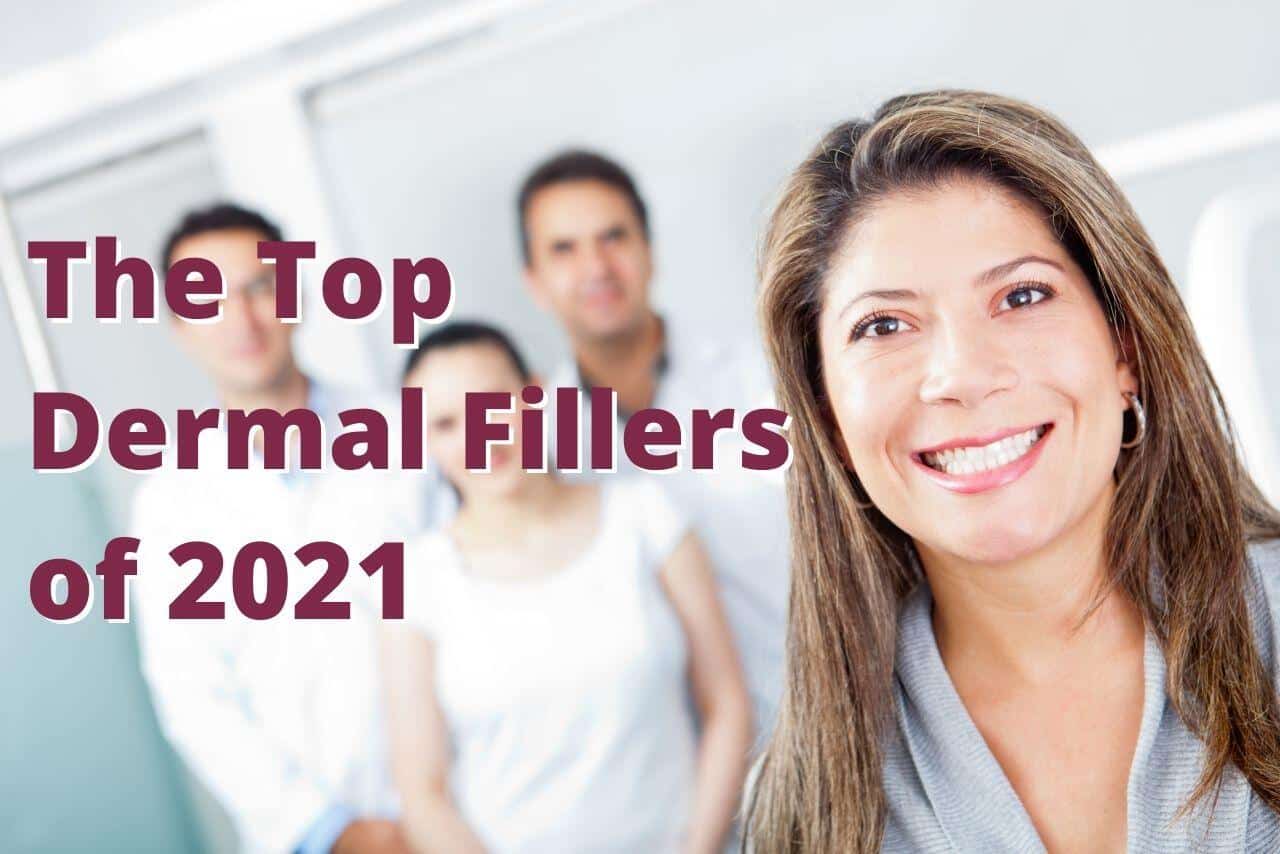 Every year, more and more patients receive dermal filler treatments. There's no debating the steady, growing popularity of non-invasive rejuvenation, wrinkle reduction and contouring with the help of hyaluronic acid injectable treatments. In response to the increased market demand for new and better injectables, a variety of manufacturers now offer many different dermal fillers to restore youthful appearance, fight aesthetic imperfections, and satisfy the tastes of the most demanding patients.
Want to learn which dermal filler brands men and women chose in 2021 most frequently? Keep reading on and learn why the following products conquered the hearts of both doctors and patients.
What Are the Most Popular Injectable Dermal Fillers?
Juvederm
Juvederm facial fillers with hyaluronic acid continue to be the leaders in the injectable aesthetics. Their very popular line Ultra represented by Juvederm Ultra 2, Ultra 3, Ultra 4, Ultra Smile, Ultra XC, and Ultra Plus XC are some of the best-selling injectables in the world.
However, the experts at Juvederm don't not stop designing and improving their products — they are always striving to create new and better ways to smooth wrinkles, restore skin volume, plump lips, and meet the increasing demands in the field of aesthetic medicine. This is how the world saw the introduction of an innovative gel for contour work, jawline definition, and chin augmentation – Juvederm Volux – the densest filler in the family of liquid injectables that will help to obtain pronounced cheekbones and also a clear, defined facial oval.
Impeccable quality, excellent results, and a wide range of fillers for various skin types and facial areas make Juvederm among the most popular brands year after year. But the rest of the industry is not standing still – as you'll see there are many other excellent offerings on the market. Let's continue.
Revolax
Revolax is a recently launched brand of dermal fillers from the Korean manufacturer Fox Group International Company. Although it was introduced to the European and American market only in 2017, Revolax has managed to become one of the most popular brands of dermal fillers and popular patient choice in 2021. Note that the brand does not boast a wide spectrum of products. At the moment it has only 3 products: Revolux Fine, Revolux Deep, and Revolux Sub-Q, but their excellent quality, satisfactory results, and extremely affordable price helped the brand to gain great popularity in 2021 and gain significant ground on such giants as Juvederm and Restylane.
Profhilo
Profhilo is an innovative injectable treatment for skin rejuvenation, relaunching the natural collagen and elastin production processes, smoothing wrinkles, and restoring natural-looking volume. At present time, Profhilo is one of the most highly concentrated fillers featuring hyaluronic acid. The manufacturer employs a unique technology of extreme heating and rapid cooling of 2 types of HA, causing the formation of hydrogen bonds, which remain inseparable in the skin tissues and allow maintaining a high concentration of hyaluronic acid.
Saypha
Dermal filler Saypha from the manufacturer Chroma, is also  among the most popular filler brands this year. Saypha features hyaluronic acid gels for smoothing facial wrinkles, restoring volume loss, and obtaining pillowy lips and full cheeks and produce more than 50 million prefilled syringes per year.
How can you explain such strong popularity of the filler? There may be various reasons, but Saypha is among the most affordable alternatives to the more expensive brands like Juvederm and Restylane.  At the same time, these fillers are of excellent quality and provide beautiful and natural results in patients of various ages. That is why many patients who are seeking a beneficial price-to-quality ratio, choose Saypha for skin rejuvenation.
Stylage
Stylage is another brand of hyaluronic acid fillers that has been available since 2009. One unique characteristic of these dermal fillers, is that they contain mannitol, a natural antioxidant to fight free radicals and slow down the destruction of naturally-occurring hyaluronic acid in the dermal cells.
The brand is represented by the following popular preparations: Stylage S, Stylage M, Stylage L, Stylage XL, Stylage Special Lips, Stylage Hydro, Stylage Hydromax. They are offered with and without the local anesthetic lidocaine.
Stylage S possesses the lightest density level, making it suitable for fragile and sensitive skin correction like smile lines and horizontal lip lines, crow's feet, and other lines in the perioral area. Stylage M and L are denser fillers, and XL is a super dense filler, ideal for the volumetric correction of the facial features like the cheeks, chin, and jawline.
The presence of mannitol makes Stylage dermal fillers unique, as they operate not just by replenishing the lost volume in the tissues from inside but preventing premature aging and slowing down the natural aging by blocking the free radicals that have an incredibly negative impact on the dermal matrix.
Restylane
Restylane, from the Swiss manufacturer Galderma is perhaps the main competitor to Juvederm. They have developed a very impressive, wide range of products: Restylane, Restylane Kysse, Restylane Volyme, Restylane Lyft, Restylane Refyne, Restylane Defyne, Restylane Lyps, and Restylane Sub-Q.
The manufacturer has elaborated on 2 unique patented technologies (NASHA and OBT) for the cross-linking of hyaluronic acid and obtaining unique sterile gels with various levels of density and viscosity for filling in volume deficiencies and the tiniest, shallow areas in the dermis, eliminating fine lines under the eyes and also deep nasolabial folds, restoring the natural shape of the face or sculpting cheekbones and jawline.
The long-lasting correction offered by Restylane products (9-18 months) with such an impressive range of dermal injectables ensured the popularity of Restylan on the market for 2021 and most likely, many years to follow.
Conclusion
These were top dermal filler brands in 2021, proven by the selection by millions of satisfied patients and qualified specialists all over the globe. Juvederm, Revolax, Profhilo, Saypha, Stylage, and Restylane are the undeniable leaders today, and possibly, for the following few years as well. Some of the brands are more expensive, while some others are more budget-conscious. They each have their clinical benefits, and patients and doctors alike can opt for the ideal fillers for their particular needs.