Revolax™
REVOLAX Product Line
These dermal fillers are made of pure cross linked Hyaluronic Acid without any animal products. REVOLAX dermal fillers uses only hyaluronic acid with the highest purity through bio fermentation.
REVOLAX adds volume to facial tissue, improving wrinkles and folds and restoring a smooth appearance to the face. Revolax filler uses BDDE as a cross linking agent – this unique cross linking technology does not require free hyaluronic acid to adjust the physical property of its gel formula. Revolax filler offers great results.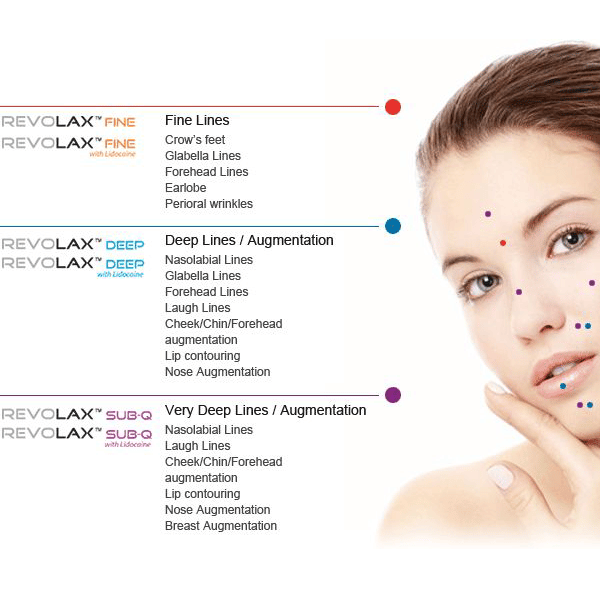 REVOLAX FINE with Lidocaine
A biodegradable, non animal based, crosslinked dermal filler for treatment of superficial lines.
Ideal for superficial to top dermis. Forehead lines, crow's feet, glabella lines, and neck wrinkles.
It quickly absorbs into skin creating very natural and healthy look in the treatment area.
HA concentration 20mg/ml
Lidocaine HCl 0.3%
Volume 1.1ml
REVOLAX DEEP with Lidocaine
A biodegradable, non animal based, crystal clear crossliked dermal filler which has high viscoelasticity.
Suitable for mid to deep dermis / subcutaneous layer.
Nasolabial folds, laugh lines, forehead, nose, cheek and chin augmentation.
REVOLAX DEEP with Lidocaine is a thicker and longer lasting gel to treat deep sized wrinkles and nasolabial folds or augmentation of cheeks, chin, and lips.
This mono-phasic HA filler should be injected in deep dermis or subcutaneous tissue.
HA concentration 24mg/ml
Lidocaine HCl 0.3%
Volume 1.1ml
REVOLAX SUB-Q with Lidocaine
A biodegradable, non animal based, crosslinked dermal filler for subcutaneous injection.
Intended for the deep subcutaneous layer.
Nasolabial folds, Laugh lines, forehead, nose, cheek, chin augmentation.
With its advanced ability to mold, maintain structure and longevity, it is recommended for treatment of deep to extremely severe wrinkles including nasolabials and face (cheek, chin, lip, or nose) contours.
HA concentration 24mg/ml
Lidocaine HCl 0.3%
Volume 1.1ml
Buy Revolax Online
Revolax fillers are well known in the aesthetic medicine market for their excellent characteristics and outstanding results. There are a few variants of these injectables available on our website – the right type is selected based on the patient's needs and skin peculiarities:
Revolax Deep with Lidocaine
Revolax Fine with Lidocaine
Revolax SUB-Q with Lidocaine
All products are carefully packaged in order to keep them safe during shipping, and we guarantee you that your parcel will arrive without any damage.
If you would like to buy Revolax now or order any other dermal filler from Health Supplies Plus, you can contact our team via phone or email indicated on the Contact Us page.
The Main Purpose of Revolax Injectables
Revolax is a famous brand of hyaluronic acid dermal filler created for eliminating both deep and superficial lines in people with aged skin. Its products consist of a few different formulas of cross-linked hyaluronic acid – the correct type is usually picked based on the client's needs and aesthetic goals.
What are the key benefits of Revolax fillers?
A special cross-linking technique is used to improve the qualities of this high-purity hyaluronic acid.
A perfect, dense monophasic structure guarantees smooth, soft injection process, an effective volume boost in the deep dermis layers, and fill in wrinkles in many facial areas.
The formula's high viscoelasticity helps to ensure that the gel will disappear gradually in the subcutaneous layer of the skin, so the results will always look natural.
High purity and other beneficial properties of hyaluronic acid of the highest quality is a guarantee of a safe treatment procedure and minimal adverse reactions afterward.
As practice demonstrates, the gel rarely migrates and cannot move to any unwanted areas.
Target Zones for the Revolax
Revolax fillers can be used for practically any treatment area. However, there are a few preferable options for treatment:
Deep wrinkles elimination (including nasolabial folds, forehead lines, laugh lines, marionette lines, crow's feet, and more)
Jawline, chin, and cheek volume restoration, and gentle facial contouring
Lip contouring, shape, and volume improvement
The product can only be recommended to a patient after consultation with a medical expert. During the consultation, the type of filler, the amount of injectable gel, number of sessions, and other crucial factors should be discussed.
Adverse Reactions
Minor side effects are typical for any type of HA dermal fillers. However, thanks to the beneficial components included in the product's composition, no symptoms will last long (a few days is typically a maximum).
The most common side effects are redness, swelling and other injection site reactions. Some individuals with sensitive skin may also experience bruising in the area of administration, as well as high sensitivity of the treated zone. For these patients, doctors recommend a simple aftercare routine to make the recovery process much faster. Here are the simple steps to follow:
Apply ice to the treated zone to reduce swelling.
Don't apply heavy makeup to the treatment area, don't massage it without doctor's instructions, and don't apply any pressure to the zone.
Avoid overheated places to eliminate the possibility of excessive swelling or bruising.
Avoid strenuous exercising to reduce the possibility of filler migration.
Contraindications
Products in the Revolax collection are contraindicated to certain patients- that's normal for any type of aesthetic product because everyone's body and health are different. That's why these peculiarities should always be discussed with a medical professional to make sure the treatment process will be safe.
Here are the primary contraindications to Revolax:
Allergic reactions to any component in the filler's composition.
Open sores, irritations, etc. in the treatment zone.
Patients experiencing acute chronic disease, autoimmune disease, or cancer.
Patients with high fever or flu.
Pregnant and breastfeeding women.
Those younger than 18 years old.
A doctor should also be informed about any type of prescription or over-the-counter medications taken by the patient, prior to treatment with this product.