Revolutionizing Nasolabial Fold Treatment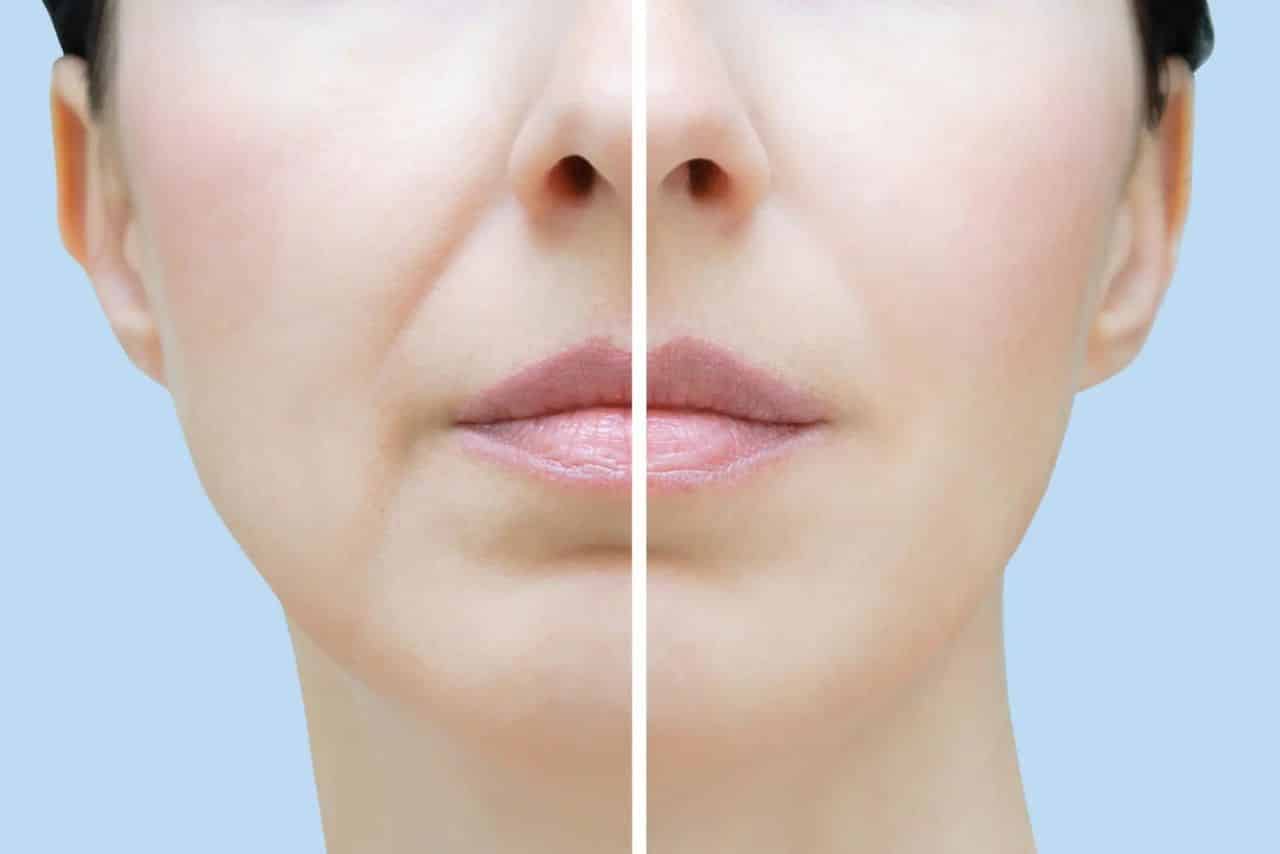 Nasolabial folds, the deep creases running from the nose to the corners of the mouth, are a ubiquitous feature of the human face. However, their prominence can accentuate with age, becoming an aesthetic concern for many patients seeking to preserve a youthful visage. Traditionally, the treatment of pronounced nasolabial folds involved invasive surgical procedures, with facelifts being the de facto solution.
Enter the era of dermal fillers, a revolutionary approach that is redefining the landscape of aesthetic medicine. These minimally invasive, injectable substances are becoming an increasingly popular treatment for a variety of age-related facial concerns, including nasolabial folds. The beauty of dermal fillers lies not just in their ability to deliver significant results, but also in their versatility. They provide the flexibility to tailor treatments according to individual patient needs, transforming and rejuvenating faces without necessitating a scalpel.
In this article, we dive deep into the world of dermal fillers, exploring their mechanisms, benefits, and their growing role in a comprehensive approach to facial aesthetics. For doctors seeking to stay on the cutting edge of aesthetic treatments, understanding the potential of dermal fillers for nasolabial folds is a must. Let's delve into the transformative powers of these groundbreaking substances.
Understanding Dermal Fillers
Dermal fillers have become a critical tool in the aesthetic medicine toolbox, offering physicians an array of treatment options that go beyond traditional methods. Comprehending their mechanics, the materials they encompass, and the unique traits they hold is fundamental to leveraging their full potential in enhancing facial aesthetics and mitigating signs of ageing, such as nasolabial folds.
Dermal fillers, in essence, are gel-like substances that are injected beneath the skin to restore lost volume, smooth lines, soften creases, or enhance facial contours. Over the past few decades, more than a dozen brands and types have gained FDA approval, each designed for specific uses and offering unique advantages.
There are primarily three categories of fillers: hyaluronic acid (HA), calcium hydroxylapatite (CaHA), and poly-L-lactic acid. Each category exhibits distinct characteristics, making them appropriate for addressing different concerns.
Hyaluronic Acid (HA) fillers are the most commonly used today. Juvederm and Restylane are prominent examples. HA is a naturally occurring substance found in our skin that helps it stay plump and hydrated. HA fillers are soft and gel-like. The results are temporary, typically lasting 6 to 12 months before the body gradually and naturally absorbs the particles. Most HA fillers are infused with lidocaine to help minimize discomfort during and after treatment.
The versatility of HA fillers makes them particularly compelling. They can be used in various areas of the face, including the cheeks, lips, and, of course, nasolabial folds. Furthermore, they're uniquely beneficial in that they can be dissolved by a hyaluronidase injection if a patient is unsatisfied with the results or if a complication occurs.
Calcium Hydroxylapatite (CaHA) fillers, such as Radiesse, contain microscopic calcium particles suspended in a smooth gel. The consistency of CaHA fillers is typically thicker than that of HA fillers, and the results will last longer, typically 12 months for most patients. In addition to immediately adding volume, over time, CaHA fillers stimulate the body to produce collagen, offering a dual effect.
Radiesse is a denser filler often used for deeper nasolabial folds, enhancing cheekbones, or correcting facial asymmetries. This filler type tends to stay in place longer and is less likely to migrate, making it a reliable choice for deeper injections.
Finally, Poly-L-lactic Acid fillers like Sculptra work slightly differently. This synthetic substance, categorized as a "collagen stimulator," helps your skin rebuild natural collagen—the protein that keeps our skin firm and youthful. The results appear gradually over a period of a few months and can last up to two years.
It's worth noting that while the above substances represent the majority of the dermal fillers market, innovation is constant in the realm of aesthetic medicine. Researchers are continually exploring the use of other substances to provide even more options for physicians and patients. For example, Polymethylmethacrylate (PMMA), an ingredient used in Bellafill, is a more permanent filler option, though its use is not as widespread as the previously mentioned categories.
Moreover, new developments in the delivery of these fillers, such as cannulas versus traditional needles, are evolving the procedure's safety and comfort. Understanding the dynamics of these tools can further enhance the application and outcome of the treatment.
The Advantages of Dermal Fillers
In recent years, the aesthetic medical field has seen an extraordinary surge in the use of dermal fillers, largely due to their multifaceted advantages. When it comes to treating nasolabial folds, these injectable substances present a range of benefits that elevate their status among the cosmetic toolset, transforming patients' lives through a simple, yet profound intervention.
One of the primary advantages of dermal fillers is their capacity to produce immediate and visible results. Nasolabial folds, which often symbolize aging and can be a cause of aesthetic concern for many, can be significantly ameliorated within a matter of minutes. Unlike the gradual effects of a skincare regimen or the post-recovery suspense following surgical interventions, the 'instant gratification' provided by dermal fillers is undeniable. Once injected, these fillers smooth out the skin, fill in the fold line, and lend a youthful glow to the face that patients can appreciate instantly.
Moreover, the beauty of dermal fillers lies in the versatility of their application. Fillers like Juvederm, Restylane, and Radiesse each possess unique properties that cater to different needs and skin types, enabling physicians to customize treatments. By understanding a patient's unique facial structure, skin condition, and personal aesthetic goals, physicians can tailor treatment plans. This could involve using fillers of varying viscosities or deploying a combination of different fillers to sculpt and volumize the face while reducing the appearance of nasolabial folds.
However, the efficacy of dermal fillers extends beyond their immediate cosmetic impact. Certain fillers, such as Sculptra and Radiesse, have been designed to promote the body's natural collagen production. Collagen, the structural protein responsible for skin elasticity, diminishes as we age, which contributes to the formation of nasolabial folds. By stimulating collagen regeneration, these fillers offer a dual benefit: immediate fold reduction and a long-term boost in skin health. Consequently, patients enjoy a more natural and sustained improvement, a testament to the evolving sophistication of filler technology.
Finally, while delivering these various benefits, dermal fillers also prioritize patient comfort. Their minimally invasive nature translates to lower risk and discomfort compared to surgical alternatives. Moreover, the procedure itself typically concludes within an hour, minimizing disruption to patients' daily schedules. This aspect is particularly appealing in our fast-paced society, where individuals seek treatments that can blend seamlessly into their lifestyle.
Dermal Fillers as a Non-Surgical Facelift
The facelift, once the epitome of anti-aging treatments, is increasingly being sidestepped in favor of less invasive procedures, with dermal fillers at the forefront of this transition. As medical practitioners, we are cognizant of the fact that surgical procedures can be an intimidating prospect for many patients. Even for those undeterred by the thought of going under the knife, the associated downtime and potential complications may be deterrents. This is where dermal fillers shine, emerging as a non-surgical facelift that is redefining the landscape of aesthetic medicine.
Facelifts traditionally involve tightening of the skin and underlying musculature, requiring general anesthesia and a significant recovery period. While results can be impressive, they're also permanent, leaving little room for adjustment or changes based on evolving patient preferences or natural aging processes. In contrast, dermal fillers are temporary, adjustable, and provide immediate results, allowing us as physicians to adapt treatments as necessary.
One of the most striking advantages of dermal fillers is that they obviate the need for general anesthesia. Procedures can be performed using local anesthetic, significantly lowering associated risks and recovery time. Patients remain awake and comfortable during the treatment, and side effects are typically minimal, largely limited to temporary bruising or swelling.
The essence of the non-surgical facelift lies in our ability to strategically place fillers to achieve a lifting effect, providing a revitalized, youthful appearance. Fillers can restore lost volume, particularly in the mid-face region, thereby lifting and smoothing nasolabial folds. For the right patients, this method offers a chance to roll back the years in a subtle, natural way without any surgical intervention.
Another defining feature of dermal fillers as a non-surgical facelift is the minimal downtime. The typical filler procedure is completed within an hour, meaning patients can often return to their daily activities immediately post-treatment. This makes dermal fillers an ideal solution for busy individuals who can't afford the recovery time associated with a traditional facelift. Even if mild swelling or bruising does occur, these side effects are temporary and can be easily managed.
Moreover, unlike traditional facelifts that typically focus on the lower third of the face, dermal fillers allow us to address multiple areas of the face simultaneously, from the forehead to the chin. This holistic approach, coupled with the ability to adjust treatments over time, ensures that the patient's results evolve gracefully with their natural aging process.

Comprehensive Treatment Plans with Dermal Fillers
As we delve further into the transformative power of dermal fillers, it becomes increasingly apparent that their application isn't confined to the treatment of nasolabial folds alone. One of the significant benefits that dermal fillers bring to the table is their harmonious compatibility with other aesthetic procedures. This multifaceted approach has the potential to yield comprehensive treatment plans that address various facets of facial rejuvenation simultaneously, often with spectacular results.
For example, laser resurfacing is a popular treatment that pairs well with dermal fillers. The process of laser resurfacing eliminates the outer layers of the skin, stimulating the production of collagen and new skin cells. When used in combination with dermal fillers, the results can be impressive. The fillers can immediately address the issue of volume loss, while laser resurfacing works over time to improve skin texture, tone, and tightness. It's like treating the canvas while simultaneously perfecting the painting.
Moreover, combining fillers with microneedling, a technique that involves creating micro-injuries to stimulate collagen production, can provide outstanding results. After microneedling, the skin is primed to absorb the fillers more efficiently, enhancing their effect and giving a more natural and enduring result.
However, creating a comprehensive treatment plan requires more than just knowing which procedures pair well together. It requires an in-depth understanding of the patient's needs, their medical history, and their aesthetic goals. As physicians, our task is to evaluate all these factors, along with the patient's facial anatomy and skin condition, to create a personalized treatment plan that effectively addresses their concerns and enhances their natural beauty.
Frequently Asked Questions
What are nasolabial folds?
Nasolabial folds are the deep lines or creases that run from each side of the nose down to the corners of the mouth. They're a natural part of our facial structure but can become more prominent with age.
What causes nasolabial folds?
They are caused by a combination of factors, including the loss of collagen and elastin, repeated facial expressions, and the natural ageing process.
Are nasolabial folds a sign of ageing?
While nasolabial folds are a normal part of facial anatomy, they can deepen and become more noticeable with age, often making individuals appear older.
What are dermal fillers?
Dermal fillers are injectable substances used to restore volume, smooth lines and wrinkles, enhance facial contours, and rejuvenate the skin.
How do dermal fillers work on nasolabial folds?
They work by adding volume beneath the skin's surface to lift and smooth these folds, reducing their appearance.
What types of dermal fillers can be used for nasolabial folds?
Several types of fillers can be used, including hyaluronic acid fillers like Juvederm and Restylane, and collagen-stimulating fillers like Sculptra and Radiesse.
How long does the effect of dermal fillers last?
The effects can last from six months to two years, depending on the type of filler used and the individual's metabolic rate.
Are dermal fillers safe?
When administered by a trained professional, dermal fillers are considered safe. However, as with any medical procedure, there are potential risks and side effects.
What are some potential side effects of dermal fillers?
Common side effects include swelling, redness, and bruising at the injection site. More serious side effects are rare but can include infection, allergic reactions, or lumps under the skin.
How quickly will I see results after a dermal filler treatment?
Results are often visible immediately after treatment, but final results can take a few days to appear as initial swelling subsides.
Is the procedure painful?
A local anesthetic is usually used to numb the area, so discomfort is typically minimal.
Can dermal fillers be used in combination with other treatments?
Yes, dermal fillers can often be used in combination with other treatments like Botox or laser resurfacing for a comprehensive facial rejuvenation.
 Can anyone get dermal fillers?
While most adults are good candidates for dermal fillers, there are some contraindications. People with certain allergies, skin conditions, or those who are pregnant or breastfeeding should not get dermal fillers.
What is the recovery time for dermal filler injections?
There's typically minimal downtime after a dermal filler treatment. Most patients can return to their normal activities immediately.
Can dermal fillers be removed?
Certain types, like hyaluronic acid fillers, can be dissolved with an enzyme called hyaluronidase. Others are not reversible and will gradually disappear over time.
How often should I get dermal fillers for nasolabial folds?
It depends on the type of filler used and how your body metabolizes it, but typically, maintenance treatments are required every 6-18 months.
Can dermal fillers prevent wrinkles?
While dermal fillers can't prevent the natural aging process, they can temporarily minimize the appearance of wrinkles and provide a more youthful appearance.
Can dermal fillers replace a facelift?
Dermal fillers can provide a 'liquid facelift' effect, improving facial contours and reducing the appearance of lines and wrinkles, but they can't replicate the more dramatic results of a surgical facelift.
How should I prepare for a dermal filler treatment?
It's recommended to avoid blood thinners like aspirin, NSAIDs, alcohol, and certain supplements for at least a week before treatment to minimize bruising and bleeding.
Is there anything I should avoid after treatment?
Avoid strenuous exercise, alcohol, excessive sun or heat, and touching the treated area for the first 24 hours after treatment.
Are there different techniques for injecting dermal fillers?
Yes, the technique can vary depending on the area being treated, the type of filler used, and the desired results. Some common techniques include linear threading, fanning, and cross-hatching.
Are dermal fillers just for women?
No, dermal fillers can be used by anyone, regardless of gender. More and more men are seeking dermal filler treatments for a variety of concerns.
Can I wear makeup after dermal filler treatment?
It's usually best to wait at least 24 hours after treatment before applying makeup to avoid infection and irritation.
 How much do dermal fillers cost?
The cost varies depending on the type of filler used, the extent of the treatment, and the provider's experience. It's best to consult with a provider for an accurate quote.
How do I choose the right doctor for dermal filler treatment?
Look for a board-certified dermatologist or plastic surgeon who has extensive experience with dermal fillers. Ensure they understand your aesthetic goals and have a proven track record of patient satisfaction.
Conclusion
The potential of dermal fillers in the treatment of nasolabial folds cannot be underestimated. Their versatility, immediacy, and capacity for customization present a paradigm shift in aesthetic medicine. They empower us, as physicians, to offer our patients an accessible, effective and tailored solution to a common sign of aging.
Moreover, the compatibility of dermal fillers with other treatment modalities opens up a comprehensive approach to facial rejuvenation. The amalgamation of fillers and laser resurfacing treatments provides an opportunity to address a broad spectrum of facial concerns in a synergistic manner. This flexibility offers us the ability to create truly individualized treatment plans.