Restylane Fillers For Nose Treatment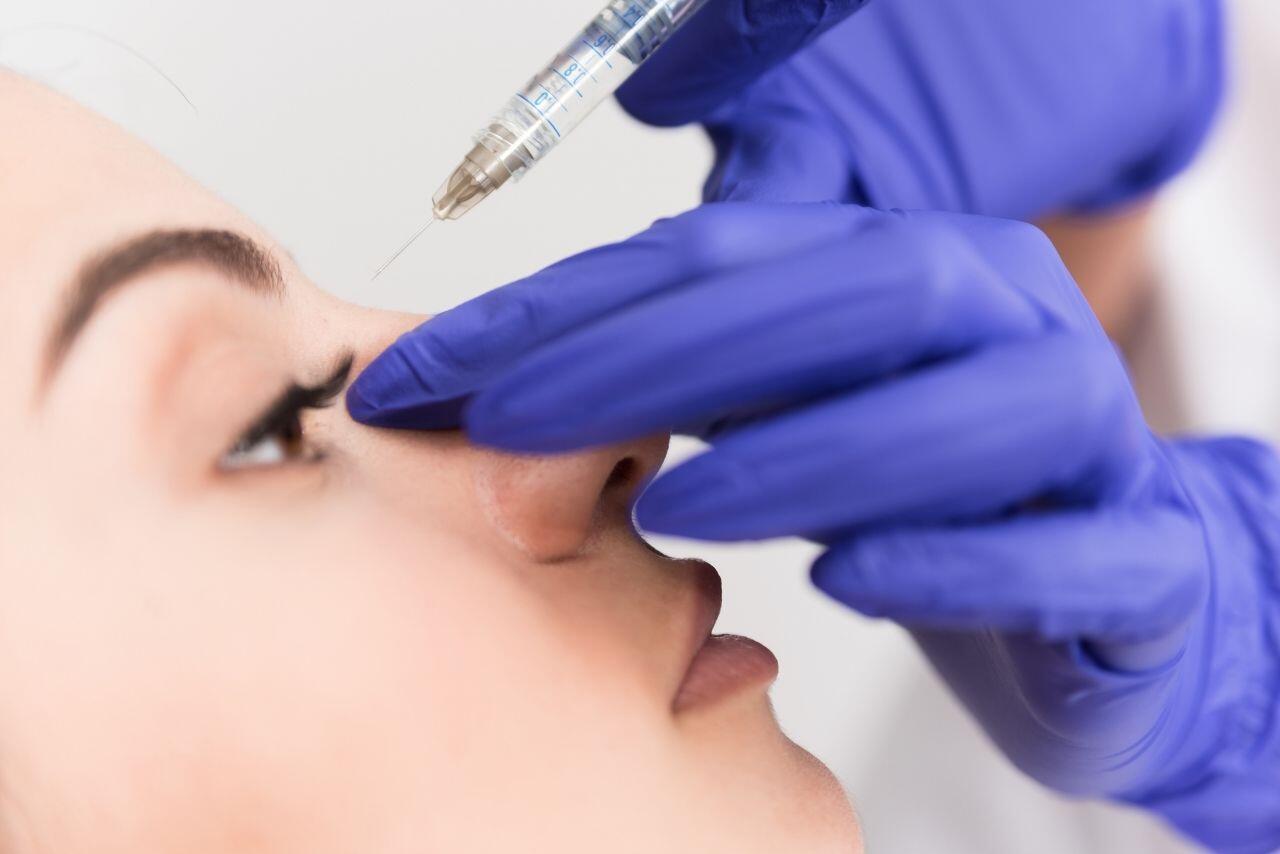 About Restylane Dermal fillers
The highly regarded Restylane collection of dermal fillers was introduced in 1996 by the Sweden-based company Q-Med AB. Over the years, the Restylane product range has been diversified and broadened to meet the ever-growing needs of dermal fillers.
Bestselling fillers such as Restylane Refyne, Restylane Defyne, and Restylane are specially formulated to treat many types of facial lines and wrinkles. In addition, there are other Restylane products that each address the specific needs of patients. For example, Restylane Silk has lip-enhancing properties and can be used for treating fine lines around the mouth. Restylane Lyft, on the other hand, is ideal for lifting and volumizing the patient's lips. At the same time, it is also effective in enhancing facial volume and filling in hollow or sunken temples. Restylane Lyft has also recently been approved for hand treatments. And in addition, Restylane Lyft can be used for a non-surgical nose job.
Restylane for non-surgical nose job
Restylane fillers (in particular Restylane Lyft) can be used on the depressed regions of the nose, helping to smooth out the bumps on the nasal bridge. At the same time, Restylane Lyft is able to lift the tip or finishing angle of the nose. While it is not possible to shrink the size of the nose, Restylane can make the nose appear more straight.
Restylane fillers are injected via a minimally-invasive procedure, and therefore not likely to cause any severe complications. In addition, the results are comparable to that of a conventional, surgical nose job. Restylane for nose is designed to deliver long-lasting results, while being much more minimally invasive. While individual results may vary, Restylane effects can last for around 12 months in most patients.
How does Restylane work?
The dramatic nose-enhancing results can be attributed to hyaluronic acid, the key active ingredient in Restylane products. Hyaluronic acid is a naturally occurring polysaccharide found abundantly in human skin and cartilage. Having water retention properties, hyaluronic acid swells in gel form when it comes in contact with moisture, thereby exerting its smoothing and filling effects.
Manufactured using the cutting-edge NAHSA Technology, Restylane dermal fillers are able to mimic the actions of hyaluronic acid in the body, delivering natural yet dramatic results. More specifically, Restylane Lyft is designed with a unique particle size for tailored treatment. Generally speaking, the larger the particle size, the greater the lifting effects. Some Restylane fillers are also incorporated with the patented XpresHAn Technology, which contributes to the flexibility of the gel, making them more useful for specific applications.
Is Restylane for nose treatment safe?
Restylane fillers have undergone extensive safety testing in many studies. They are now associated with a minimal risk of side effects. In fact, many Restylane fillers (e.g. Restylane Lyft) have been approved by FDA.
While generally safe, Restylane for nose can potentially cause minor injection-related side effects such as discoloration, pain, redness, tenderness, itching and swelling. However, these symptoms are typically short-lived and will eventually resolve themselves. Restylane is not likely to cause any major side effects when injected and applied correctly.
To ensure patient safety, Restylane for nose should not be used in individuals with known sensitivity to hyaluronic acid (or any other active ingredients in the formulation). Most of the Restylane dermal fillers (including Restylane Lyft) are intended for adult patients over 18 years old.