Juvéderm or Restylane?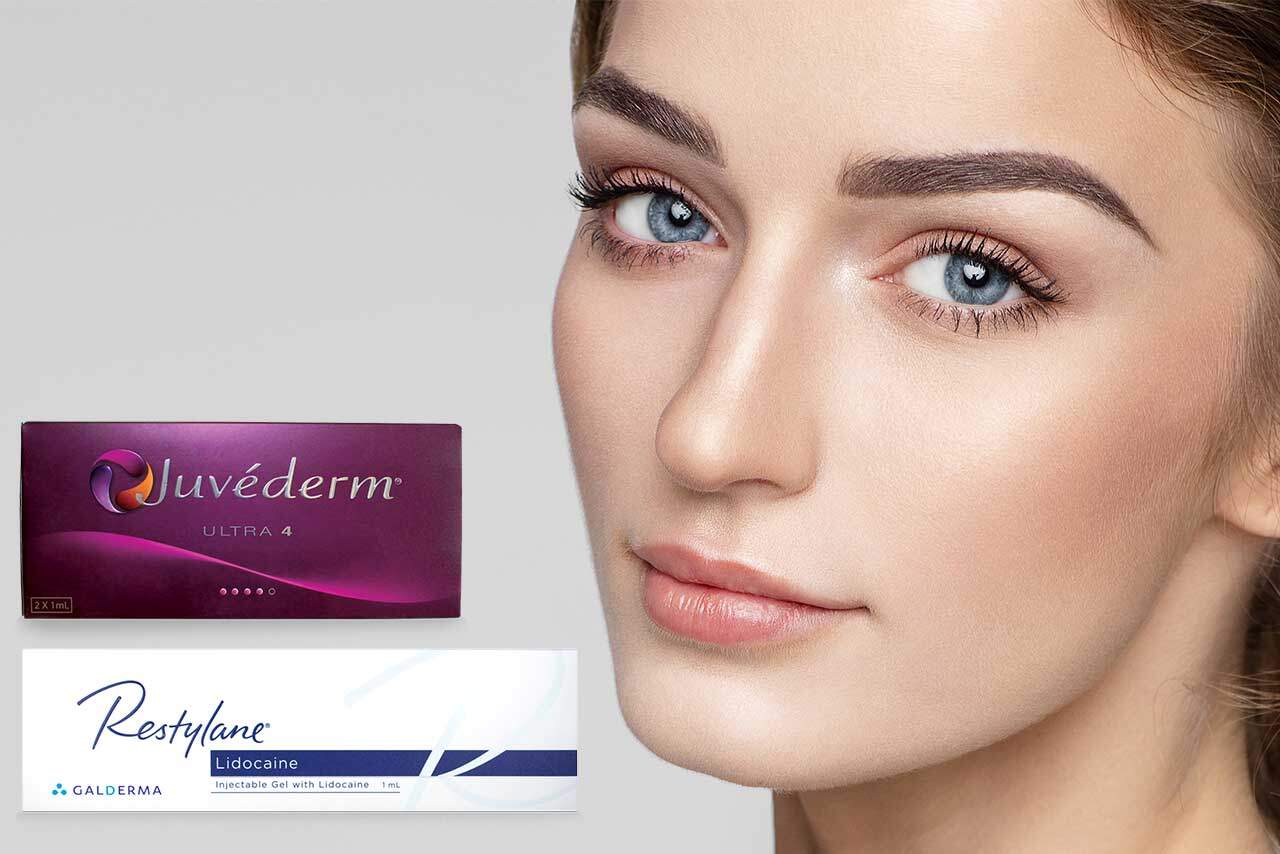 Juvéderm and Restylane are the leading dermal filler brands in the world. They are widely known for effectively eliminating evident signs of aging and minimizing the appearance and formation of folds, lines, and wrinkles.
Whether your preference is geared toward Juvéderm or Restylane, it is important to know the key differences between Restylane vs. Juvéderm to decide which one is most appropriate for your needs.
Juvéderm, Restylane: What is it?


Both Juvéderm and Restylane are hyaluronic acid-based fillers approved by the Food and Drug Administration.
This means that Juvéderm or Restylane's line of products are guaranteed safe and sustainable for cosmetic use.
Hyaluronic Acid (HA) is the main ingredient in both Juvéderm and Restylane. Hyaluronic Acid is an important substance produced by the body to keep the skin plump, hydrated, and moisturized. Its primary function is to retain water inside the cell membrane, therefore giving the cells its formation and structure. 
Over time, our body's hyaluronic acid production decreases. This results in the formation of deep lines and folds in visible corners of the face. The administration of HA-based fillers stimulates the body's natural production of hyaluronic acid to give the skin a smoother, tighter look.
Juvéderm and Restylane each feature a very versatile range of products that were developed to treat very specific areas: marionette lines, nasolabial folds, frown lines around the brows, the cheeks, face, and even the hands.
Restylane vs Juvéderm: Key Differences


The primary difference between Juvéderm and Restylane is the formulation's consistency.
While Restylane and Juvéderm, are both hyaluronic acid-based fillers, the method and technologies used to create Restylane and Juvéderm are very different.
This results in notable differences in the way the solutions behave under the skin and what areas are best addressed using these fillers.
Juvéderm is achieved using highly concentrated 6% or 8%degree cross-linking and homogenization using HYLACROSS technology. This produces a soft and smooth consistency gel that diffuses evenly and penetrates well beneath the skin.
Restylane, on the other hand, is created by cross-linking of equine stretococci and BDDA. This has resulted in a cohesive, granular consistency that stays in its place after injection.
There are several advantages and disadvantages for and against Juvéderm or Restylane.
Juvéderm may be best applied to make specific, subtle modifications that show a very delicate and smooth effects. It is most suitable for finer lines, micro-folds, and areas where facial muscles are tighter.
Restylane is best used for areas with greater volume loss where cohesion and steadiness are more necessary, although lumps may be expected with its granular consistency.
Patients may experience slightly more resistance and reaction to a Juvéderm treatment compared to Restylane.
Another key difference between Restylane vs Juvéderm is duration. Juvéderm, with its more concentrated cross-linked formulation, may result to a longer lasting treatment of up to one year, compared to Restylane which averages 6 months duration.
However, both Restylane and Juvéderm treatments may need touchup treatments after a few months.
Juvéderm or Restylane for Lips


Restylane Silk is the first lip filler approved by the FDA, which promises natural-looking lip enhancement. It can also be used to smooth out lip lines. Results can be seen after a few days and may last for up to ten months. Restylane averages between $300 to $650 per injection.
Juvéderm Ultra XC is formulated with lidocaine, to ease pain and discomfort on the area as sensitive as the lips. This filler may be used for lip augmentation to plump and add volume to the lips.
Juvéderm Volbella is used for more subtle lip enhancements. Juvéderm products show results almost instantly — 15 to 60 minutes after treatmen. Results may last for about a year.
Final Verdict. Juvéderm or Restylane?


Now that the pros and cons of Juvéderm vs Restylane have been elaborated, the final verdict will still lie upon the patient— under a licensed and experienced doctor's guidance.
Even with each product's strengths and weaknesses, the best option will always be the treatment that is tailor-fit to the specificity and uniqueness of the patient's desired outcomes.