RESTYLANE® EYELIGHT w/Lidocaine
$89.00
RESTYLANE® EYELIGHT™ is a targeted hyaluronic acid injectable filler that addresses under-eye hollows and darkness caused by a lack of volume.
What is RESTYLANE® EYELIGHT™ W/ Lidocaine?
RESTYLANE® EYELIGHT™ with Lidocaine is an injectable gel designed and approved specifically for injection into the tear trough to fill in under-eye hollows and address the appearance of under-eye shadows caused by lack of volume. This tear trough treatment is used to restore volume and lift the area under the eyes, while also brightening the area, offering a refreshed and less tired appearance. It also helps even out the skin tone. It is manufactured by Galderma, a pharmaceutical company headquartered in Lausanne, Switzerland. The company has innovated science-based solutions for skin health and aesthetics, providing the availability of aesthetic products for the world to use.
The addition of Lidocaine, a local anesthetic, helps to make the treatment less painful and more comfortable for patients. This anesthetic provides a rapid numbing effect at the injection site, reducing patient discomfort. It is a numbing medication that reduces discomfort caused by injection-related procedures.
You can purchase RESTYLANE® EYELIGHT™ with Lidocaine online at Health Supplies Plus. Help your patients reduce the appearance of under-eye hollows and shadows. Our website provides the best and high-quality, cost-effective products. Place your order today!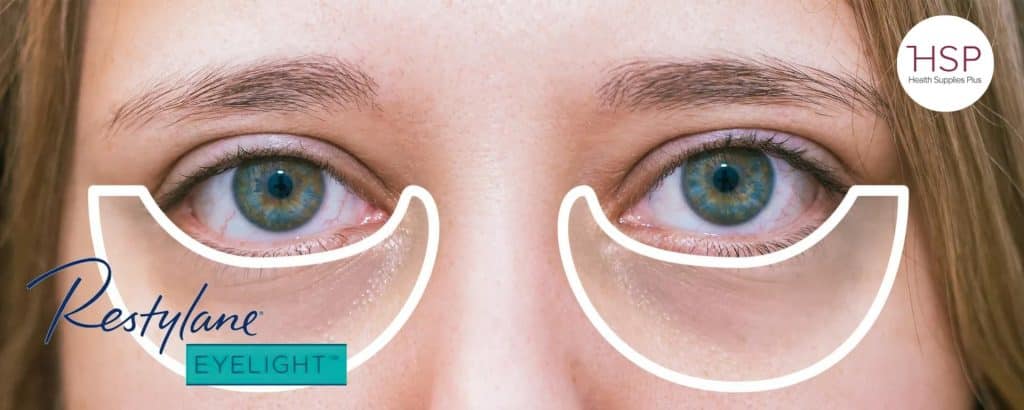 How does RESTYLANE® EYELIGHT™ W/ Lidocaine work?
The treatment area for this dermal filler is the under eye area. The hyaluronic acid contained in this product attracts and retains moisture into sunken and aged-looking under eye areas. When injected, this tear trough filler uses Restylane's NASHA® Technology, which delivers hyaluronic acid (HA) to the under eye area, adding youthful volume and long-lasting results for dark undereye hollows.
RESTYLANE® EYELIGHT™ with Lidocaine procedure is an easy treatment, and the result is immediate. It reduces the severity of dark under-eye hollows and shadows. The special formula of hyaluronic acid in this product adds hydration under the eyes, adding a more youthful appearance.
Results of this dermal filler treatment usually last for between 6 and 18 months. It is a safe and simple procedure. It is performed by injecting it directly into the skin. The inclusion of Lidocaine makes the treatment less painful for patients.
Who uses this dermal filler?
Commonly, people who are 18 to 65 years old use this cosmetic treatment. It applies to individuals who are experiencing under-eyes shadows caused by loss of volume.
Benefits
Side Effects
Compared to other dermal fillers, the RESTYLANE® EYELIGHT™ with Lidocaine procedure has minimal side effects. Educate your patients with the following side effects and when to notify you when these unwanted reactions become severe.
Common side effects
• Bruising
• Mild irritation
• Redness
• Swelling
• Discoloration of the skin
• Itching
• Hardness of the skin
Severe side effects
• Headache
• Skin numbness and dryness
• Swelling at the injection site
| | |
| --- | --- |
| Manufacturer | Galderma |
| Active Substance(s) | Hyaluronic acid, lidocaine |
| Strength | 20mg/ml HA, 3mg/ml Lidocaine |
| Pack Size | 1 x 0.5ml prefilled syringe |